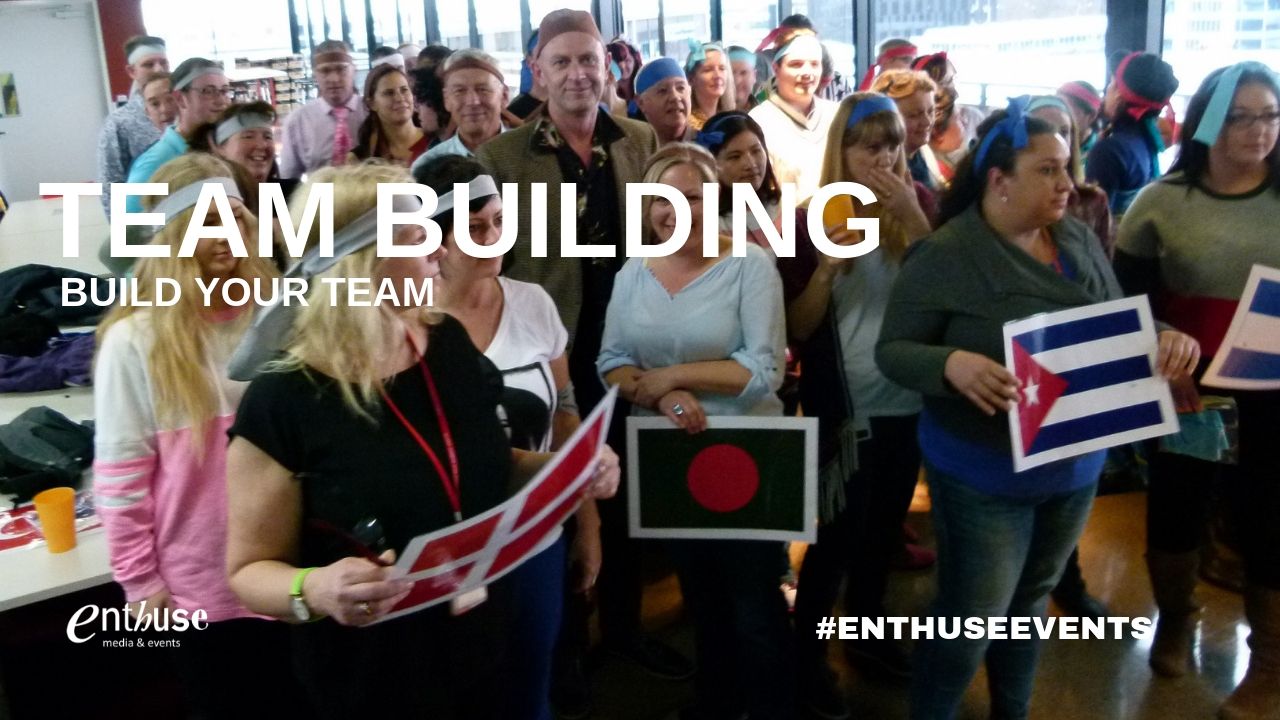 Team building is the process of turning a group of individual contributing employees into more of a cohesive team and to have some 'out of office' fun along the way.
Team building could just be the most important investment you can make for your business and its staff. It builds trust, sorts conflict, encourages communication and increases collaboration. Effective team building means more engaged employees, which is good for company culture and boosting your bottom line. It can also be adventurous and enjoyable if you do it with a little enthuse… iasm
Company's serious about investing in their staff and their culture invest in team building.
Ditch the company BBQ
Being happy and learning are tied very closely together. Trying new things with your staff can generate good postive vibes which in turn benefits the business itself. Choosing something unique and slightly outside of people's comfort zones can encourage them to come together in new ways.
It's not a splurge – it's an investment. And there are ways to keep the energy going once back at the office!
TEAM BUILDING develops better communication, promotes creativity, motivates employees, develops problem solving skills and breaks down barriers…. plus is just plain good fun!
The success of most organisations depends on the ability of individuals to build effective teams. The main goals of team-building are to improve productivity and motivation.
We have years of experience taking employees out of the office to help break down barriers, eliminate distractions, and just have fun with an 'out of the office' experience.
Check out our TEAM BUILDING options and video footage 
OUR TEAM BUILDING THEMES – LET US MAKE A DIFFERENCE
The Mini Olympics
Provides a great afternoon of fun activities complete with an improvised opening ceremony.
The Mini Olympics involves a number of fun structured activities set over a period of three hours that has teams race as a 'country' against each other.
Locations are indoors then the surrounding fields and areas of the hotel/venue. Activities include coming up with a national anthem, the infamous cup stacking world champs, indoor distance dart throwing, hockey shot out, tug of war, Frisbee challenge and shot put.
There is a prize giving afterwards where a short video and images from the afternoon's activities is shown. We can extend the event into a evening prize giving and after party.
Wet weather options can include making a TV commercial indoors on an iPhone or a quiz hosted by our appropriately themed hosts!
Lights, camera, action – lightning scripts
Make a Hollywood Blockbuster movie! Then walk the red carpet to vote on best picture, best actor and most creative use of a camera!
Aspiring Directors, Actors & Actresses, all done nice and easy using an iPhone. We provide expert coaching and support and your key business themes are built into the days script developed just for you.
Learn key filming tips, follow a script, unlock the power of your IPhone….
One of your team members will be the D.O.P** and one will be the Director. The D.O.P and Director will do the filming and editing of the scene. All other team members must appear in the scene at least once. ** Director of Photography A.K.A – cameraman
LIGHTNING SCRIPTS team building is an excellent team building event and provides great entertainment when the movie is viewed after walking the red carpet.
Key elements: FUN, teamwork, leadership, cooperation, goal setting, creative thinking and decision making, problem solving, time management and communication.
Combine a great afternoon out and evening entertainment that can include the gala awards 'after party'… check out the video clips below
Combine  'lawn' activities'
We can run a relaxed croquet and petanque 'on the lawn,' afternoon…. enthuse can arrange the catering, venue and 'atmosphere' and clients come dressed in their best 'whites and blazers' for some fun, slightly competitive, croquet and petanque… great relaxing fun.
We always film proceedings to show at the prize giving! Footage and images are supplied to you afterwards. We can combine the afternoon with an evening prize giving dinner and after party.
Top 5 reasons to enthuse your team today with team building!
TEAM BUILDING breaks down barriers!
1: Increases motivation. …
2: Increases collaboration. …
3: Encourages creativity. …
4: Gives positive reinforcement. …
5: Improves communication
… plus just plain good fun!
Anything from our mini Olympics team building activity or Lightning Scripts, making a Hollywood movie, made easy with iPhones to a fun afternoon in your best whites on the lawn.
Great for a Christmas function or at any time of the year. Check out some videos from our team building
Check out our Mini Olympics
This is our lightning scripts, make a movie
And this is feedback from our lightning scripts, make a movie
Testimonials
The greatest thing we've ever done. Without missing a beat we had the greatest time at any conference ever.
Travis Badenhorst, President NZ Society of Cosmetic Chemists 
On behalf of Blacks Fasteners ltd I would like to thank John for his fantastic presentation, You Are Your Brand; everybody got a lot out of it. I also want to thank both John and Aaron for the fun events they put on and for creating and managing the competition surrounding the afternoon's activities. The way they choose the groups, and the events, to suite all levels of fitness – and the humour that went with it – was unbelievable and meant we had a fantastic team building afternoon. It will be a long time remembered so I would recommend enthuse to any organisation.
Roger Black, Managing Director, Blacks Fasteners
Thanks to enthuse for a wonderful afternoon and evening. The support leading up to the event was exceptional with input into many aspects of the function, going above and beyond just to make it easier for the organisers. They were flexible, friendly and easy to contact whilst being highly professional. The event went superbly well and I continued to have great feedback for weeks. Our staff were particularly complimentary about enthuse as the entertainment for the event above all else. enthuse's entertainment actually managed to get everyone livened up and dancing – no mean feat for a typically conservative bunch. Thanks for your input and enthusiasm (naturally!) – wouldn't have been the same without enthuse there. We would certainly recommend enthuse for any size function, informal or formal. A huge thank you!!
Grace Ryan, Sinclair Knight Merz
John McKenzie of enthuse helped me to organise an afternoon of fun and relaxation for 40 people from Marriotts Limited and the day was a great success. John is the consummate professional who is always well prepared and he has lots of many good ideas for planning a function such as we had. John's energy in running the function is also a great asset when considering his services.
Alan Sharr, Principal
The feedback I received from our staff after their stint behind the camera has been nothing but positive. You captured and engaged our leaders (and they certainly are a varied bunch) in a way that left them wanting more! Perhaps we have some "actors" in the making.
Marisa Maloney Orica Chemnet (Australia)
The Team Building was a challenging experience and everyone is still talking about it. Friday night was fantastic, your professional and sense of humour made the event a huge success.
Louise Edwards, Chief Executive, Perpetual Trust