We love having an impact on how people feel and there's nothing better than a successful event to do that!
enthuse has an award winning track record of over 17 years of adding an enthusiastic creative spark to conferences and events all over New Zealand with professional improvisation acting, mc-eeing, speaking and entertainment options, that include our popular Singing Waiters and red carpet paparazzi event entertainment themes.
We can save clients time and money as we really do offer so much under the one roof – entertainment, theming, team building, a professional speaker and a mc, all tailored to the needs of our clients. We can package up our entertainment services, so the more involved we get, the more time and money we can save our client's!
We specialise in providing actors and entertainers that are multi-talented and can act as part of an event theme, and then transform into the evenings themed band, filling the dance floor. If required we can mc the event as well and provide event management…
Our clients can relax and sit back and enjoy their event with the knowledge they are in very capable, experienced hands.
Event entertainment themes
Christmas is coming! 
HAVE YOUR BEST STAFF CHRISTMAS FUNCTION EVER
Are you wondering what to do for your work Christmas function this year? Are you wondering where to go and how to get started with your planning?
We are here to help! We are here to take all that stress and planning for your work Christmas function away. It's an investment in your business! So it's important to get it right
Let us make your Christmas function the best event.
We have over 17 years of planning and organising great events and adding some fantastic value to existing ones.
Make your Christmas special this year! Let us take care of the
✅planning
✅venue
✅catering and
✅ entertainment. We can package up our entertainment for you this Xmas. How about your own Xmas carols, the Singing Waiters with a Xmas twist or our extra special version of Santa?
Singing Waiters – entertainment on a plate
Singing Waiters – entertainment on a plate
Our most popular entertainment theme! Fantastic fun, interactive hilarious entertainment…

The entertainment starts as soon as the function begins with our 'special' waiters working, serving the guests, each in their own unique way!

Guests are completly in the dark as they are waited on by some very friendly, outgoing and slightly unprofessional waiters.

One waiter thinks he should be running the whole venue (or maybe even your company??), one avoids work at all costs, and enjoys chatting with guests and sampling the food and wine, and the girls, well, just maybe a little bit too friendly or vauge?
The evening builds until after the food service has finished it appears there's no entertainment, and the waiters have decided they will do something about it – apparently one of the girls can sing?
All is then revealed in a very funny, jaw dropping sequence as the waiters become the band, filling the dance floor and providing a fantastic night of fun, comedy and outstanding world class entertainment!
After the 'reveal' rock the night away with a fantastic range of music and fun; no need to book a band as well.
The popular singing waiters can be done with two, three or four actors and entertainers.
This concept has been very well received all over New Zealand for a large variety of clients from corporates to various association groups!
Red Carpet paparazzi – a night in Hollywood: great for awards evenings
Make your awards night one to remember!
Transform any venue into a 'night at a Hollywood awards red carpet show' full of the glitz and glamour of the real event – we can organise the theming as well as provide the entertainment.
Guests run the gauntlet of the red carpet paparazzi… camera's flashing, fielding questions from reporters… all caught on film
Images and video taken on the red carpet show on the big screen early in the evening.
These images and video are given to you after the event at no extra charge!
The evening can be hosted by a professional mc..
Fun awards can be handed out to guests…
You are also invited to the official after party where the 'after party' band rocks the night away; red carpet paparazzi and the MC transforming into the band.
Casino Royale – James Bond casino evening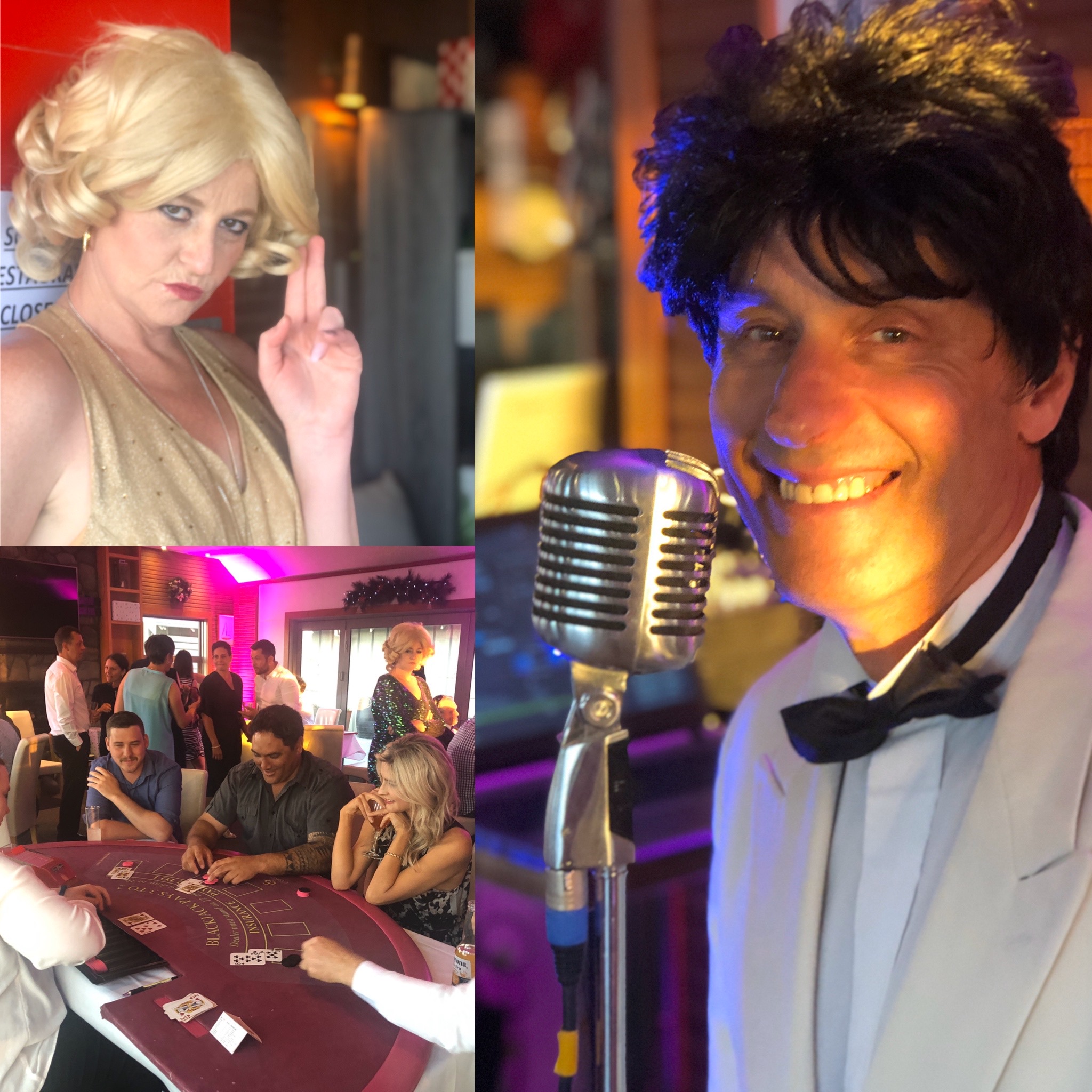 A Casino Royale James Bond themed event; guests immerse themselves in the world of the secret agent, Bond, James Bond. Staff are greeted by Russian female (Spy?) Alexandra as they enter the venue who searches them for weapons.
Upon entering the room guests find themselves in another world – a world of high stakes poker games where danger lurks around every corner and nothing is as it seems. By utilising themed décor and casino gaming tables we can create your very own Casino Royale.
Guests have chance to try their luck at the Black Jack and Roulette Tables supplied while enjoying the atmosphere of the venue and location.
James Bond of course arrives – sometimes (depending on the location) on a jet ski – and he is on a mission, someone at the function has stolen a rare famous very expensive diamond.
Bond mixes and mingles with guests as he trys to find the diamond during the evening of high stakes gambling.
This can include him acting as the MC and to spice things up can sing a few numbers during the evening.
Our Russian spy will also sing Goldfinger as well as some other lounge bar themed songs. There is potential to crank it up as required if the mood looks like dancing may be on the cards.
Develop something for you
There's a large range of other event themes that combine our acting and entertainment skills and we love coming up with something new.
Theme thought starters include:

70s quiz show and after party
Queen -' We will Rock you'
Christmas entertainment can include your own Xmas carols and a surprise, slighty different Santa
Gatsby – roaring 20s
This is Your Iife
Blues Brothers
Lord of the Rings
Richard Simmons disco sweat
Rocky Horror
Snoopys Christmas
Top Gun
Grease
Need an MC
John is well established as one of New Zealand's leading MC's. A corporate events and entertainment background combined with experience in media (including radio & television and sales & marketing) means he is intuitive and fun and can read an audience well. John does his homework and will be very well prepared to deliver key messages.
Well known for his enthusiastic professional style and delivery. He can weave fun images and video footage from your business and industry into his MCing and can sing if required.
From awards ceremonies to conferences, association and sporting events to tournaments, discover the difference John can make as a professional MC. He is able to get points across with clarity, confidence and conviction and in a relaxed manner that meets your requirements. John ensures your event opening and closing carry impact by working closely with your team for effectiveness and delivery.
His corporate entertainment and acting background means John understands the importance of proper lighting, staging, working with the multi-media production teams, the flow of meals and how the event entertainment must be co-ordinated through a co-operative flexible approach.
Actor
As an actor, John can appear as an appropriate 'character' during the event. He can show up beforehand as a waiter or even a delegate, before ending up on stage as your MC.
Speaker and facilitator
John has a successful track record as a professional corporate speaker and facilitator on topics that include branding 'You are your Brand,' sales, social media and marketing.
Package up MC, speaking and entertainment services and save time and money
Talk to us about how we can package up John as an MC, speaker and combine it with one of our entertainment themes to save you time and money.
Check out John talking about what makes a good mc…
Event Management
We do love a great event and we get a real kick out of bringing one to life, whether its one of our own – like the award winning Car Park Cannon Ball or Legends of Cycling gala events – or whether you have an event you need help with.
It's easy to underestimate the time involved in planning an event.
Organising an event can be stressful with lots to think about – from the catering, audio visual, venue, entertainment, theming and even insurance and sponsorship. All this can cause you to spend unnecessary money and time trying to do more than you can handle so let us help.
Let us:
Make you and your event look great and make it memorable
Help you align your event with your marketing activities
Save you time
Probably save you money
Take the stress away
Help source and manage sponsorship
Come up with some great extra ideas and event concepts
Cover off all the details so you can kick back and actually enjoy your own event
Event tip: what can wreck an event?
Find more event tips on our YouTube page
Testimonials
Thanks so much for you and the team – you guys were really awesome and brought a totally different and unexpected element to the evening.
Cleo Kranenburg, Mango Events & Experiential; Ronald McDonald Red Shoe Ball Auckland
The Singers Waiters were brilliant. As a Conference Organiser we are always striving to provide our clients with the very best entertainment we can find, and The Singers Waiters were a huge hit. We would recommend any one looking for a superb evening of laughs and entertainment to book The Singing Waiters.
Tony Laker – House of Travel conferencing & events management 
HUGE HUGE  thank you for an amazing job.  Mark and Marla were absolutely thrilled with the party and all the components of it! I could see what a huge effort it was carrying off the waiters all night, then performing as Freddy Mercury and topping it off rocking the floor to the end! Great show! Everyone very happy. Thanks to you for your professionalism.
Due Duncan, craft'd events, Auckland (60th birthday celebration)  
The Singing Waiters are a joy to work with, their enthusiasm is infectious, their ability to adapt to changing situations and their exuberance for making our event the best it could be made the night a success. I would thoroughly recommend this team of talented performers to give your evening the wow factor and a night people will remember. They make awesome memories.
Sally Chesterfield; Rural Fire Authority
Foodstuffs South Island Limited engaged the services of enthuse for our Management Academy Graduation. enthuse provided a "paparazzi/red carpet" experience, MCing and live music for the evening. The night was a great success and John and his team did a fantastic job at getting everyone up on the dance floor and having fun. enthuse were very professional and great to deal with from the suggestions they gave at the planning phase through to the night itself.
Debbie Behrnes, Training and Development Manager Foodstuffs South Island
John McKenzie is an excellent MC he was able to adapt to the evenings events and was enthusiastic in offering suggestions in how we could improve the event. John is also a warm hearted and kind person who makes you feel like your event is special The singing waiters also provide an amazing performance which makes the evening memorable and creates an event with real wow factor.
Sally Chesterfield; Rural Fire Authority
Sport Southland has called on the services of Enthuse twice now, for the ILT Southland Sports Awards. Both occasions have been huge successes, and we have had overwhelmingly positive feedback about their performances. As the singing waiters they were a surprise hit, and as the paparazzi they were an entertaining and fun addition to the programme. The team at Enthuse have complemented our awards functions perfectly; adding an element of fun to what is otherwise a reasonably formal evening. Not only do they provide fantastic entertainment, but they really make a huge difference to the atmosphere and the vibe of the whole awards evening. John is easy to deal with, understands our audience and caters exactly to that. Sport Southland would have no hesitation in recommending Enthuse.
Brendon McDermott, Chief Executive Sport Southland
John was an excellent MC for the National Events Conference (Eventing the Future) . Being part of the industry it is always hard being in front of peers but John listened to the requirements of the role and performed with real professionalism. John took time to incorporate appropriately themed music and integrated points picked up in sessions. While the conference MC role was more formal and around introduction of speakers, his real flexibility came out when he was MC for the start of the conference dinner where he "performed" his Rocky Horror piece. It was a hit!!!
Anne Hindson, Director, Eventing the Future Ltd
We asked John to customise his  "you are your brand" keynote presentation to best connect it with the work our frontline staff do every day. It was obvious he'd done his homework; he understood the really important work our people do, how they touch the lives of New Zealanders in a powerful way, and the significant difference they can make.  Focussing in on "you are your reputation" he helped provide insight that each and every one of us has our own personal brand.  He challenged us to bring our best selves to our work each day, and provided tools to assist in our personal brand promise. The enthusiasm and energy he brought was great!  Across the two forums he presented to, people left feeling inspired.  Johns willingness to change things up, the instinctive way he ensured his messages complemented our forum theme was awesome!
Wendy Chisnall, Regional Director, Ministry of Social Development